C-Suite Forum attendees embrace the ESG Tech Stack and ESG Infrastructure
Datamaran's 16th February event creates

a framework fit for a new ESG industry
Datamaran launched a number of industry-first initiatives and concepts at the C-Suite Forum, held during GreenBiz23 in Scottsdale, Arizona.
This first-of-its-kind tech-powered forum introduced the idea of the ESG tech stack as a critical part of a new ESG infrastructure. This new idea, which struck a chord with everyone in attendance, perfectly captures how the ESG industry is evolving and the role technology has to play. Business leaders are expected to navigate this new and rapidly evolving environment and need the right technology and skills more than ever.
The first-panel discussion addressed this issue head-on, asking the question "What is an ESG infrastructure and what role does technology play within the ESG infrastructure?"
Moderated by Susie Katus, SVP Market Leader at Datamaran, speakers at the session were Marjella Lecourt-Alma, CEO and Co-Founder at Datamaran, Kim Stroh, Co-Founder and Digital Information Officer at Persefoni, Trevor Bronson, Director of Portfolio Strategy at Intelex, and Mark Mellen, Director of ESG Enablement at Workiva.
Joel Makower, Chairman, and Co-founder of GreenBiz Group, in his introductory speech for Datamaran's event, asked the question, "Everything that's measurable isn't important, and everything important isn't measurable - so how do we make sure the data from these technology platforms actually communicate something beyond our own community, and even beyond the C-suite? How can it become both helpful in understanding the progress we're making and in showing the direction we need to go next? These platforms are a critical part in how we communicate this and bring our stakeholders along with us."
Datamaran's C-Suite forum provided the first chapter of the ESG tech story with several themes emerging from the panel discussion which can be viewed here.
The changing role of the C-Suite in ESG
As the ESG regulatory landscape evolves, C-Suite and senior executives are responsible for delivering ESG initiatives but do not have the supporting infrastructure or tech stack in place to do so internally. Their reliance on external consultants is a historical habit, but one that might need to change from its current form.
The outsourced ESG model, designed for a more compliance-led ESG approach rather than new governance-led rules, leaves executives with all the responsibility and accountability, but none of the control. It means those within the client company don't own their ESG strategy, don't know in detail how calculations and decisions are made or have an understanding of the underlying data.
The existing model of external outsourcing could leave leaders exposed. While consultants provide value with troubleshooting or bringing expertise on a new ESG topic, making companies self-reliant is the only viable response in this new environment. Companies are expected to take control of their own strategy and story.
The consensus across the panel, and echoed by the audience, was that all aspects of ESG would benefit from being taken 'in-house'. Doing so would make it cheaper, and faster, but more importantly, it allows companies to be more responsive to the fluid and dynamic nature of stakeholder expectations and regulations - especially those focusing more on governance, demanding greater accountability by senior leadership.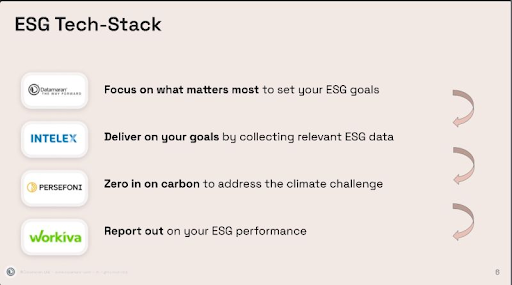 Building the future of ESG
Datamaran convened the C-Suite forum, the first time these developing ESG technologies have come together, to provide greater clarity for those who will use those technologies to build and deliver their own ESG strategies. Industries like marketing or finance already have mature tech stacks that support the needs of businesses. ESG now requires a similar solution.
The panel discussion addressed the emerging ESG infrastructure needs. This included the people and skills needed to deliver internally, C-suite knowledge gaps, and how to address them. It also highlighted the specific technologies required for each stage of ESG strategy development and reporting, as well as acknowledging the key role consultants will continue to play for specific projects and challenges.
Building a solid foundation for an internal ESG tech stack involves selecting the appropriate software and tools to help achieve the identified goals. This could involve investing in a strategic ESG platform to identify and monitor material ESG risks and opportunities that are most important to your business, collect relevant ESG data across your entire organization with a data management program, integrate carbon accounting software, and finally, reporting software.
The panelists agreed there is no single tech solution that addresses everything in ESG or sustainability. Unlike financial reporting, for example, there is no established framework of technologies. This sector and infrastructure are being built now. The panel outlined the need for companies to make sure they have a clear understanding of what each tool contributes to the overall ESG infrastructure.
There are many providers and it is important to choose the right tool for the right job. Don't choose the one that claims to do everything. It's important to ensure that your tech stack is scalable, flexible, and secure so that it can adapt to changing business needs.