ESG trends and strategies to move your business forward
Datamaran hosted over 80 C-suite and ESG leaders during Climate Week 2022 in New York City to discuss the latest trends and challenges within ESG - and answer some burning questions about the future. Check out some of the highlights below and click on the links to watch in full.
The Panel:
Marjella Alma-Lecourt - CEO and Co-Founder, Datamaran
Sandy Nessing - VP and Chief Sustainability Officer, American Electric Power
Peter Underwood - Senior Vice President and Senior Counsel, Fortive
Moderator: Barbara Porco - Accounting Professor/Associate Dean, Fordham University
What is the current state of ESG?
Marjella outlined that ESG is no longer a fad. Not only has it reached the upper echelons of the corporate world, but those kicking off their journeys now tend to start from the top down; this is the right way to cement it within organizations. This means the C-suite, including the board, are leading the charge, with ESG an integrated part of the business and financial reporting process.
Pete concurred but added, "We still need to figure out how boards are going to work with management" on ESG, citing irregular cadence and the fact that they are still often on different pages.
Sandy warned that we'd come a long way but there was "still a long way to go…A lot of what we're doing today is still voluntary, not mandatory…that presents challenges. We're moving in that direction, but it's going to take some time." However, she noted ESG has serious "street cred" and is now becoming essential for companies to access capital, achieve good credit ratings, and insure assets.
What are the biggest challenges for ESG?
There's a lot of negative backlash out there. But as Marjella pointed out, we need it - it does nothing but help improve and hone the message. As awareness increases (alongside mandatory regulation), it's inevitable that it becomes a hot-button, polarised issue. This merely demonstrates how far we've come and the need to strive for further progress. Furthermore, we're all inventing the ESG process as we go, but we must continue to challenge and be challenged - as well as be responsible service providers.
Should we be challenging the backlash and will US corporations get onboard despite domestic US challenges?
Marjella responded to the first half of the question with her view that those in the backlash camp are looking at ESG in a binary way and politicizing it; even with the best arguments these skeptics will not be convinced. As such, they are not the ones we should be focusing on.
Sandy delved into the second half by discussing the activity that is helping to accelerate the push toward clean energy, including the Inflation Reduction Act and the extension of tax credits.
Pete offered a different perspective, stating that he was unsure what the SEC rules would do. "There's no mandate around reducing emissions, there's nothing that would make me change my behaviour, I just have to talk about my behaviour." He then discussed what could become problematic and have negative repercussions for many in the C-suite who do want to report on various factors. "The SEC is not going to ride to the rescue. It's us."
Will companies get so scared with SEC rules that they will report less?
Sandy acknowledged that this was a real concern. Would companies start pulling back on their targets? Ultimately, she thought they wouldn't, but that there would be "a risk of a less robust narrative that explains the data and why you're doing what you're doing".
Barbara disagreed, saying that in the short term you probably would see organizations pull back, stating that ESG doesn't have the levels of robust compatibility reporting which is needed in a financial paradigm.
Marjella talked about two key factors: disclosure and the new business reality. Datamaran tracks 400 ESG issues. Regardless of standards and frameworks - all of which are crucial - these issues are impacting businesses today and their ability to be successful. "You better understand how climate (one issue) impacts you now. This plays into risk and opportunity, but also competitive advantage, from attracting capital to attracting talent".
How can we be more honest in accepting there might be a short-term hit for a long-term gain?
Pete acknowledged the pervasiveness of short-termism within the corporate world, particularly with public companies, but identified a point of hopefulness: "More companies and investors are getting aligned on the topic, meaning investors are slightly more flexible than they used to be. The same with sales-side analysts…There seems to be an increasing ability to do things for the long-term interest that still have the short-term ESG benefit - and selling that to stakeholders." He continued that this was not the case if you'd missed two or three quarters in a row - the short-termists would ultimately win.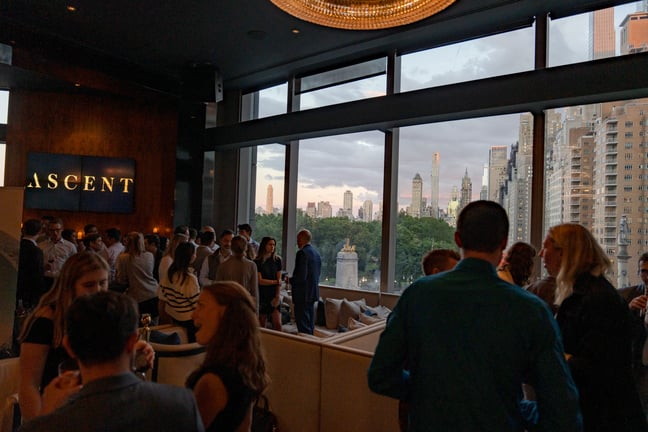 What is best practice for ESG?
Both Pete and Sandy agreed: If you're just starting with ESG, work within your capabilities and understand what is important to your business - don't try to boil the ocean.
Tie it into the language and goals of your business - avoid ESG acronyms and use the language of the C-suite so nothing is ambiguous or opaque.
Listen and let people be heard. Be collaborative and cross-functional in your approach because ESG is a shared responsibility. Legal teams, Chief Risk Officers, Deputy Treasurers, environmental services and climate teams, Chief Diversity Officers, corporate communications, corporate sustainability, Investor Relations and others all play a key role.
Marjella highlighted a trend of ESG integration into the annual report.
How do you bring more lawyers and general counsel to sit in the discussions
Pete took the lead, saying that the evolution of ESG meant there would be more C-suite involvement, and therefore the general council would be involved too. "The bigger ESG becomes, the more important ESG risk management becomes to your board, to your organization and your stakeholders and you'll have to talk about it externally. Regardless of where ESG sits in your business, risk always sits with your general council. Talking about those risks, how you're managing those risks, what's the short and long term impact of those risks - that lens will draw the attention - and the accountability - of the general council and legal team."
Watch the panel in full here.