How to get ROI for your ESG platform
With the rush of money into environmental, social, and governance (ESG) investment funds — more than $1 trillion in the last two years — it's easy to think everyone clearly sees the business value of ESG. However, ESG initiatives are often seen as a cost or compliance obligation, rather than a benefit or source of positive return on investment (ROI) for companies.
Making the case for ESG as an investment
Many leaders see ESG-related spending purely as an expense, not an investment. So what are the benefits of ESG? Who says that a strong ESG business strategy cannot create value for companies and their shareholders?
First and foremost, failure to meet the growing demand for action on ESG risks can expose an organization to huge reputational damage and financial risks. As a result, annual ESG reporting has become a practice that's increasingly carried out with specialized ESG software instead of spreadsheets or generic file management systems.
Implementing an ESG strategy is not only essential to caring for people and the planet, but is becoming an increasingly important factor on how investors, consumers and employees make decisions about the organizations they work with. With a strong ESG business strategy, ESG leaders proactively address tomorrow's ESG issues and communicate the right priorities to stakeholders, customers, employees, board members, investors and regulators.
Proving direct ROI through ESG projects
As with any business activity, ESG strategies will inevitably involve costs that don't directly lead to improved profitability. It isn't always easy to calculate the ESG ROI of reporting or materiality assessments. Instead, companies should focus on specific projects to implement and calculate their ROI.
For example, Datamaran's client Philips, as stated in its 2021 annual report, reduced its impact on operations by 8% (EUR 9 million) - mainly driven by outbound logistics, followed by business travel - due to lower emissions from logistics and the phasing-out of fossil fuels.
According to American Electric Power's (AEP) 2022 Corporate Sustainability Report, their continuous improvement efforts, commitment to ESG and investments in a clean energy future contributed to $16.8 billion in revenue in 2021 - compared with $14.9 billion in 2020. They also achieved strong 2021 operating earnings of $4.74 per share, in the upper half of their earnings guidance range.
This steady and consistent earnings growth demonstrates their track record of investing capital and optimizing their ESG portfolio to support earnings growth. As a result, they increased their long-term growth rate target to 6% to 7% and raised their operating earnings guidance range to $4.87 to $5.07 per share for 2022.
Using Datamaran, Cisco identified climate change and GHGs topics as the highest increasing importance to stakeholders and business. As stated in their latest 2022 Purpose Report, Cisco achieved a 60% reduction in total Scope 1 and 2 GHG emissions. They also achieved 85% use of electricity generated from renewable sources for at least 85% of their global electricity.
Hexion is recognized for many successes in waste reduction and energy efficiency throughout the company since 2013. According to their 2021 Sustainability Report, they reduced global energy intensity by 28%, executed more than 250 sustainability projects and produced water and energy savings of approximately $14 million, including $2 million in 2020 alone.
With 39% of global energy-related emissions attributed to buildings, Owens Corning broaden their efforts to reduce the use of single-use plastics. Their Roofing Components team has repurposed their lumber wrap product as a reusable packaging for shipping FOAMULAR®, replacing stretch wrap.
Not only was stretch wrap single-use, but it also required a tarp to be installed over the pallets on the truck, which resulted in expensive additional shipping costs. The reusable lumber wrap packaging saves the company $2.3 million in freight costs annually.
Soft ROI
Every company's ESG roadmap is different - and ESG truly is a long-term, strategic journey for boards and management teams. Nonetheless, the benefits of strong ESG performance on brand reputation, employee talent, culture, operational efficiency, risk management and access to capital are not only numerous - many are quantifiable.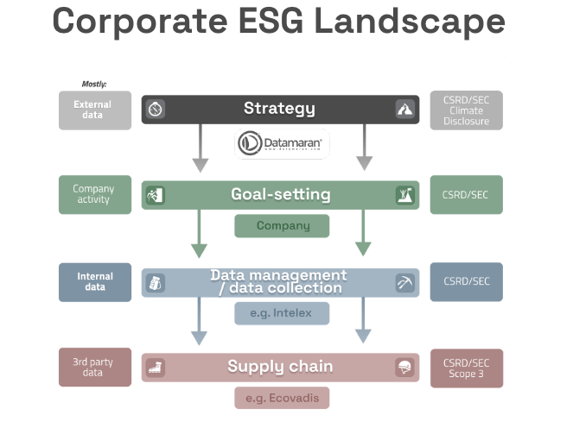 While ESG may feel like a reporting obligation, the purpose of ESG isn't writing an ESG report, it's investing in all the initiatives inside a company that lead to business benefits and positive ROI - which can then be shared in a report.
Many companies start ESG work due to compliance and investor pressures, only to find that as their ESG investments, maturity and capabilities evolve, there are significant cross-company benefits and efficiencies.
In the same way, it is important that companies embrace the challenge of not only talking about and investing in ESG, but actively considering ways in which they can live their values ​​and culture in the workplace.
Regardless of ROI from ESG, we believe we have a responsibility to contribute positively to the global community. Not just because it's profitable and popular with shareholders, but simply because it's the right thing to do. With all of this said, the overall value of a robust ESG strategy — measured over the long term — is undeniable.
Data-driven benefits
With Datamaran you can get ROI in 30 minutes, gaining strategic and actionable ESG insights immediately and see trends develop in just three months. Whatever size your team is, however mature your ESG function is, Datamaran empowers confident decisions and delivers best practice outcomes.
Datamaran allows you to use data-driven insight to create an agile and integrated business and ESG strategy; proactively deal with tomorrow's ESG issues today; and communicate the right priorities with stakeholders, customers, employees, board members, investors and regulators.
Gain a clear understanding of the ESG risk landscape and create data-driven strategies in-house with confidence. Get in touch today to learn more.